About Us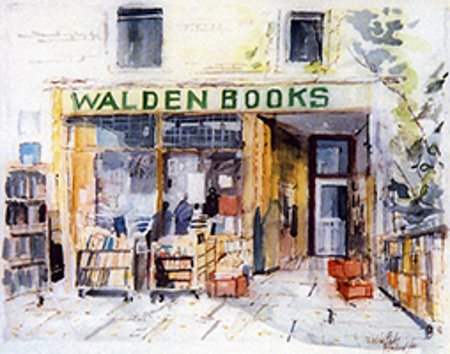 Stock in our 
online catalogue
is viewable at our shop, but if you are planning a visit with specific titles in mind, please 
contact us
first to ensure we have them at hand.
Our shop consists of two rooms, on a ground floor, with books shelved by category. Outside, on our forecourt, we have bargain bins for cheap and cheerful paperbacks.
Established in 1979, by David Tobin, we have been part of Camden's lively independent retail scene for more than 30 years. Our customers are collectors, bookworms, passers-by, academics, students, artists and writers – including famous locals.
We are located in a Victorian terrace, in a quiet, leafy residential street. Our shop front is graced by a magnificent Wisteria vine. (A reminder of Walden, and Thoreau's life in the woods, after whom we are named.) Visitors are surprised to find us just a 10-minute walk from the mayhem of 
Camden Market
 and 5 minutes from the queues outside 
Marine Ices
.
Testimonials
Here are some kind things people have said about us:
"I never leave this shop without a couple of volumes that have caught my interest."
Rollingplinth, blog
"Books of all kinds packed into its shelves and happy customers popping in."
Tired of London, Tired of Life, blog
"Stocked with a fascinating array of rare and out-of-print titles."
Time Out, magazine
"Overflowing with secondhand bargains. Book lovers will do well to search out this wonderful bookshop".
Booklovers Guide to London, book
"One of the few old-fashioned secondhand bookshops in London. One of the secret local treasures."
stantoncarlisle, Yell.com

"A large selection of quality hardbacks and paperbacks...the owner is very helpful."
Sunday Times, magazine

"It reminds us of the simple beauty of a row of old books and the promises they make to anyone brave enough to pick them up."
The Matilda Project, blog